Potato Cutlet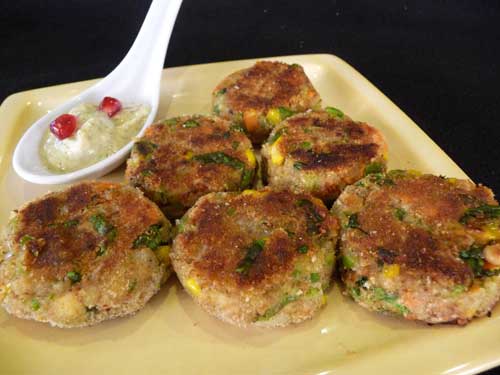 Ingredients:


2 medium sized potato
2 finely chopped carrot
10 finely chopped beans
1/2 cup peas
6 slices bread
1 tsp garam masala
1 tsp ginger garlic paste
1 medium sized onion
3 tsp oil
1/2 cup bread crumbs (rusk) powder
1/2 tsp. chilly powder
Salt to taste

How to make Potato Cutlet:

* Cook all the vegetables and keep it aside.
* Heat the oil in pan over moderate heat add finely chopped onions, ginger garlic paste, garam masala.
* Stir and cook for 3 to 5 minutes until aromatic and onions are softened.
* Smash the potatoes, followed by beans and carrots. Add peas, salt, chilly powder and onion with masala. Set aside.
* Soak the bread slice one by one in little water and squeeze well.
* Add this to vegetable mixture.
* Make small balls out of this and then flatten the balls.
* Now dust the cutlet with rusk powder.
* Place a frying pan over high heat, when the pan is very hot.
* Place few cutlets round on the pan and sprinkle 1 tsp of oil over it and turn it over.
* Fry all cutlets till it gets golden brown on both sides.
* Repeat the process until all cutlets are fried. Serve hot.